Musical History - Mike Hounshell
I started playing bass guitar professionally in 1975 eleven days after I played the bass for the first time. After five days of practicing with the band, the other members of my first band invited some guys from one of the other bands in the area to evaluate my playing. So that night the guitar player and drummer from the other band showed up at my parent's house. The drummer happened to be none other than a young undiscovered Steve Whiteman, who became the lead singer of the legendary band "Kix". They said I played too many wrong notes. I went on to play that gig and many many more.
During my senior year in high school I was selected for the Maryland 1978 All-State Chorus. I graduated from high school with the "Outstanding Music Student Award" and an accompanying music scholarship($25).
While attending Frostburg State University I majored in music. There I played bass in the jazz ensemble, trombone in the marching band, and performed in many vocal ensembles. It was Dr. Jon Bauman who opened my eyes to the value of music theory. Thank you for those endless ear training sheets Dr. Bauman. There is no substitute for perseverance. I engineered and was an artist on both student talent association albums, "Believe It", and "Plateau".
In 1981 I released a solo album, "Sometime, Somewhere". The single I put out was featured in the regular rotation on some radio stations. The album received generous airplay. Since the digital age, it has been made available for download on many web sites by fans of the record. The vinyl album is now a collectible. I saw it go for $354 on an auction web site. No, I wasn't the one to sell it, buy it, or collect any money from it. Just a couple of total strangers in the universe.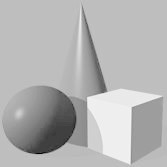 In 1984 my band "Ten Below" made it to the finale's of "DC101's Battle of the Bands". I sent in a demo of a song of mine that had been getting regular airplay on the local rock station, WQZK in Keyser, WV. Out of hundreds of entries we were selected to compete in one of four of the semi final competitions at the Bayou (long gone now) in DC. We won our semi final round. We then went on to the finals to compete with 3 other bands at the Sylvan Theater in front of the Washington Monument in front of a crowd of 20 thousand people.
(I'm on the right, playing bass, facing the audience, left is Christopher Ogden, playing keyboards)
We came in fourth that day but overall, it was fourth in a Field of over 250 entries. The experience was amazing. Just being on stage playing your original music in front of that huge crowd was worth it all. I spent the rest of the 1980's playing bass in various bands and getting to open for some national acts like Henry Lee Summer, at The Bayou in DC.
For kicks I entered several Mid-Atlantic Songwriting Contests (2 of the 3 awards are pictured below)
The contests were sponsored by the Songwriters Association of Washington.
In the eighties a TV station, WNVC-56, Fairfax, Va, had a show called the "Green Room" hosted by Mike Baker. Somehow the station had gotten a hold of my solo album and asked me to be on the show.

Mike Baker, the host of "The Green Room", asked me questions about my solo album (Sometime, Somewhere), songwriting, copyrights, disco, and working with bands versus going solo. He played a song from Sometime, Somewhere called, "Give It All" live on the air.
Mike Baker also asked me to write and record a theme for "The Green Room". I wrote a reggae, Ska type theme song that was used as the intro/theme song for a while.

I was interviewed on the show 4 or 5 more times. Once I got confused about the time of an interview, showed up late and was never asked on again. I hate when that happens.
CATHEDRAL (US)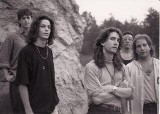 In 1991 I joined a progressive rock band "Cathedral". We entered a song in Musician Magazine's 4th "Best Unsigned Band Contest". We made it to the finals and had our band name listed in the magazine for being in the top 100 best unsigned bands. When weren't busy playing live in DC, VA, MD, and NJ, we were recording. But soon our hard work would be rewarded.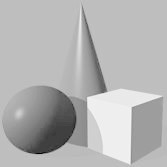 Not much later that year we signed a recording contract with Kinesis, a progressive rock label. Our first CD, "Kingdom of Ends" was the first original CD the Kinesis label ever released. It was well received in the progressive rock world.
Cathedral once opened for "Dream Theatre" at the Bayou in Washington, DC.
During the 90's Cathedral(US Trademark 1991) was played on the "Don and Mike Show"(WJFK) everyday for years. They used they beginning line of Cathedral's "Existencial Crisis"
in what was called the "Cavalcade of Hits". You could hear "Wheels are spinning in my mind" just after the line from the "Wizard
of Oz", "What would you do with a brain if you had one". It was cool to hear our lead singer, Ted
Thompson (excellent singer, front man), on the radio everyday say "Wheels are spinning in my mind".
One day Don and Mike were kidding around and repeating the line on the air. I heard the DJ's that particular day and was very confused and a little freaked out.
When one of our buddies called the station for us and asked what was up, he was told the producer loved the song and started everday with "Existencial Crisis".
I don't know how long it ran exactly, but it was for at least 2 years. It was one of those cool things that happen sometimes. Oh yeah, for the record, we never got paid a dime.
After Cathedral released our second CD, "There in the Shadows" 1993 we split up.
A few of us formed a group called "Hip Omelette" that recorded and gigged around DC, Maryland, and Virginia until 1995.
I recorded some of my own music but mainly concentrated on producing and engineering other bands material for the rest of 1990's. Ironically, I ended up mixing a post "Kix" Steve Whiteman band demo. It was great stuff. The guitar player of the band brought in a pair of Alesis ADATs and I set them up through my automated mixing system.

One of the highlights was working with Roger Fisher, legendary guitarist of the band Heart in my own studio. During the session he asked me to record my bass on the track while engineered. That's me, Mike Hounshell with Roger Fisher (of Heart) in 1997 at Sountrax Studio pictured below.
Another is producing and recording the now legendary "Review Your Choices" with Joe Hasslevander and Bobby Leibling of Pentagram in 1999. This CD is listed on Wikipedia and I am listed as a producer. I also created a track called "Gila?" for the CD. That CD has been released and re-released in 5 different versions over the years. It's success changed the careers of Bobby, and Joe forever. Bobby Leibling had a documentary made about him called "Last Days Here".
Since then I've been involved in various multimedia projects.
A few years ago I decided to start archiving some analog material of mine. One day i found an old cassette of Cathedral's first demo and remembered sitting in Lion and Fox studios during the mastering session. I realized our first CD didn't get mastered at all. CD technology was very new then as compared to what's available now on every home PC. I got bugged.
So, in 2012 I remastered Cathedral's first CD, and "Kingdom of Ends 2012 Remaster" was released commercially in July of 2012. It is NO LONGER availabe on Amazon. This CD is out of print and not available for sale at this time.
2012 I joined joined the band "Ad Infinitum" . I am in the process of recording bass with Todd Braverman and Ad Infinitum for "Ad Infinitum 2".
"Sometime Somewhere 2" EP was released September 2013. And is now available on iTunes.